February 2022
Written by Ted Giliam Diesel Engineer. Glen Valley Victoria
After many hours and weeks of fitting the recast and machined main bearings to the Ruston 12H
crankshaft, an alignment of .00025" of crank deflection was achieved. A mammoth task for Dave and Ted!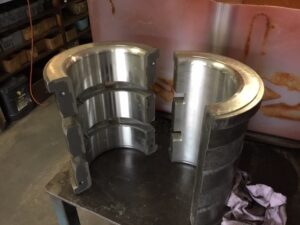 The crank was then spun for 2.5 hours ( by Fergy tractor and flat belt) to make sure all four mains
were getting oiled properly by oil rings, before connecting rods were refitted. Engine was restarted and run successfully much to Dave and Ted's delight, after three years of hard work. Quite a large number of visitors have seen the Ruston run since the bearing repairs.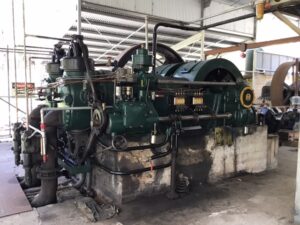 While the big Ruston was decommissioned, a " Kelly and Lewis" , hot bulb, two stroke diesel
motor was recovered from the crusher site at the "Twenty Head Battery" and brought to the engine
shed, to be dismantled. It was found that the 2003 bush fire had damaged the engine badly, melting an aluminium pulley driving the oil pump.
After dismantling the engine, 2 large cracks were found in the engine block, rendering it useless.
Ted, being a member of the "Dunmunkle Sumpoilers Machinery Preservation Group" in Murtoa,
Victoria, mentioned our predicament to some club members. Mr Winston Chivell, also a club member of the "Sumpoilers", said he had a secondhand block laying on his farm, near Birchip.
Ted went and checked out the block, on the farm, and found it to be in serviceable condition.
Winston, agreed to donate the block to us. Dave and Kelvin, met Ted in Murtoa, and the three of them, went to the farm, near Birchip, to collect the block. Dave and Kelvin, then delivered the block, to Glen Valley. The block was cleaned and honed, new bearings and seals were sourced, and re-assembly slowly
took place. After a couple of years , the engine was once again complete, painted, and started and ran
successfully. The "KL" now drives a large compressor, to pump up the first 200 P.S.I. of air for the Ruston start up. It is now part of the start up procedure of the big Ruston 12H.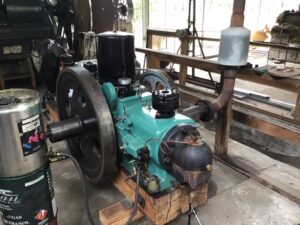 Other achievements by Dave and Ted:
-The enclosure of a large part of the engine shed walls. The purlins for this being donated by
Shakanda Engineering, Korumburra.
-Dave restoring a Cooper stationary engine.
-Ted supplying a Southern Cross piston pump.
-Dave making a rail trolley, and fitting both motor and pump to it, and it now runs on rails to the
creek. The pump is run for display and also to pump water for the Ruston 12H cooling.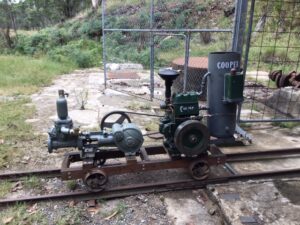 -Concrete steps were poured and guard rail was made and fitted.
-Preparing to paint the large "Ingersol Rand" compressor (located beside the Ruston)
-Preparation to put steel bridge across creek, on original bridge site, at engine shed. Once bridge is
in place, large exhibits can be taken to the shed.
-Work has also started on restoration of 3 cylinder "Crossley" engine at the Maude mine, which
will be moved to the shed in due time.
-Dave has also restored a "Moffatt" virtue stationary engine, to drive a drill press, which he also
restored.
– Parks, Victoria, had a sign made, which has been fitted on the front of the shed.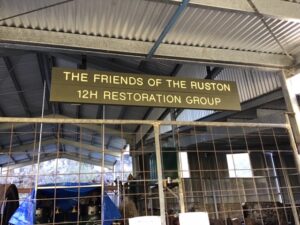 As can be seen, an enormous amount of work and effort, has been done by Dave, Kelvin and Ted
over the last few years.
On a sad note, in June , 2021, Dave and Ted, lost a valued volunteer and worker, when Kelvin
Somner, passed away. Kelvin, was Dave's brother.
Dave and Ted are at the engine shed, most long weekends and public holidays.
Most of the engines and the big Ruston12H are usually started at these times.
Other start ups for groups can be arranged by appointment.
Ring Ted on mobile: 0428 649 216, or Glen Valley 03 51597210
August 2019
Update from Ted Giliam Diesel Engineer Glen Valley
Since the first public start-up weekend in October 2016, approximately 700 people have seen the engine run.
The motor has been started and run about 25 times after Open Day weekend for different groups.
Over time, excessive main bearing wear was noticed, as there was excessive oil spillage into waste oil drums.
In October 2017, while running the engine for a large group, it was noticed that one main bearing was developing a knock.
Ted Giliam and Dave Dyball removed the main bearing cap and found the white metal bearing fractured.
They made the decision to decommission the engine before major damage could occur which would render the engine inoperable.
The main bearing caps and oil slingers were removed.
The crankshaft was jacked up using three 10 tonne jacks and secured in place.
Top and bottom bearing shells were removed with great difficulty because of broken white metal in bottom shells.
Ted took all eight bearing halves to Leongatha to assess damage and to decide what path needed to be taken to repair the bearings.
The bearing halves weighed approximately 50kg each and working on the bearings required a lifting machine at all times.
The next task was to source some white metal which costs around $50/kg – approximately 130kg of white metal was needed to reline the bearings.
No real funds were available and a donation source needed to be found.
Ted went to Yallourn Power Station work shop, which is run by Hardchrome Engineering. They machine white metal bearings there for industry.
Through their generosity, Ted was able to secure a 200 litre drum of lathe swarf.
Ted melted this down into ingots recovering 90kg of clean white metal.
Meanwhile, old white metal was melted out of the bearing shells, also into ingots
A mould had to be designed and built to be able to re-pour new white metal into the bearing shells.
Many hours were spent manufacturing these moulds as they had to accommodate three different sized bearing shells.
A special oven was designed and built by Ted to pre-heat bearing shells prior to tinning. The shells required heating to approximately 200 degrees celcius for the tinning. Tinning is a process which helps the white metal to attach to the bearing shell.
Meanwhile, Dave, Kelvin and James have spent many hours restoring the big air compressor. This is almost complete and ready for painting when the warmer weather returns.
All heavy lifting was done by Gordon and his John Deere Loader.
It was decided to try and pour the while metal during the Christmas/New Year break 2018 at the Glen Valley motor site.
Dave being a foundry worker at different times, sourced the necessary equipment. Furnace, gas blower pipe, furnace tongs, crucible and associated pieces to do the job accurately and safely.
Around 28th and 29th of December 2018 all the equipment required for the pour was assembled on site.
The moulds and bearing shells were heated to 200 degrees celcius (plus) and the white metal was heated to approximately 400 degrees celcius to clean it and get it to the right temperature for the pour.
That afternoon the first of the bearings was filled with white metal. The temperature that day was 36 degrees. A hot task on a hot day!
Dave was in charge of the furnace, the white metal melting and pouring.
All 8 shells were poured over the next 10 days with success.
The pouring was done by Dave, Ted, Gordon and Meredith.
The whole procedure was videoed by Olivia Williams.
Following the pouring, all bearing halves were taken back to Leongatha by Ted for machining.
The machining process included:

Thrust faces x 8
Parting joints x 8
Boring of assembled bearings – including new shims and special clamps to hold halves perfectly together.
Oil return grooves
Crankshaft champers
Oil reliefs to oil bearings

Lundstrom Engineering owners – Steve and Michelle Allen were most generous with their time and machining of the bearings at the most absolute minimal cost.
Machining is still ongoing and it is hoped that cleaning of motor tunnel and crank can commence on Cup weekend 2019.
Bearing assembly and crankshaft recommissioning hopefully over the Christmas/New Year break 2019-2020.
All things going well, the engine restart and testing of bearings and crankshaft alignment in January 2020.
or, click on the image below to watch a video of the white metal being poured into the bearing shells.
June 2018 
More parts on the way to Glen Valley to be reunited with the engine
While chasing parts for a Ronaldson Tippett engine restoration, a casual conversation between Lawrie Piko and Peter Bongiovanni from Lockington Victoria lead to the recovery of an almost as new condition big end bearing for the Ruston. The bearing had found it's way into a fellow engine enthusiasts collection many years ago, and they were very happy to see the bearing returned to Glen Wills.   A big thanks to our friends at Lockington for coming forward with this part – which may prove important to the continued running of the engine in the future.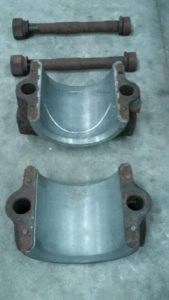 15 & 16 October 2016
The Open Day was a big success for more information about the event follow this Link.
27 February 2016
Using a portable compressor to supply air, the engine was cranked over during the weekend. The air was fed into the system which is used to start the motor. The great news is that it turns over smoothly. Another milestone reached and another step closer to the startup! See the following video